Details

Category: MUSIC
Published on Friday, 22 March 2013 09:12
Written by Jeffrey
Hits: 5362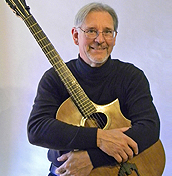 GUITELLO
---
GUITELLO, a fretted plectrum-generated instrument tuned as a five-string cello in fifths, was commissioned by Jeffrey McFarland-Johnson and made by luthier David Heitzman in 2012.
The Guitello is the hybrid of a steel string acoustic guitar, the cello, and the lute. Its clear redwood top was farmed from the bottom planks of a 30,000 gallon cabernet wine vat installed in 1943 at Charles Krug winery in the Napa Valley by Cesare Mondavi, father of Peter Sr. & Robert Mondavi.

This instrument was designed to interpret the six solo cello suites composed in 1713-1720 by J.S. Bach. The first three suites contained on this CD reflect over 40 years of study by JMJ. "Remarkably, every time I play them they change in character with the seasons, my demeanor, and the surrounding world I live in."

...Click here to learn about Jeffrey McFarland-Johnson's Guitello Bach Cello Suites 1,2,3 on CD!