Details

Category: MUSIC
Published on Monday, 25 March 2013 20:01
Written by Jeffrey
Hits: 4186
THE PERFECT ABC SONGBOOK MUSIC
---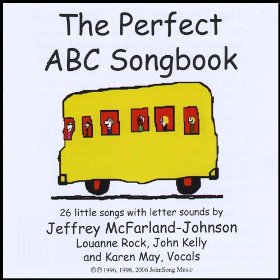 Click here to listen to song tracks from The Perfect ABC Songbook!
The song collection in The Perfect ABC Songbook will hook your child into mesmerizing them and ask to sing them over and over again.


You will notice a positive change come over your child as they become increasingly aware of improved letter recognition and pronunciation.


A win-win investment in your child's future. You will be more than satisfied with what The Perfect ABC Songbook will offer your child; a new suite of easy to sing songs that teach without realizing that they are being taught.


These songs will be a glowing addition to your child's learning library. Every song in this book comes in the same format, yet each song is composed in a different musical style that
adds a rich mosaic of freshness and just plain fun to learn!


The author has taught music and remedial reading classes for over 18-years in the California public schools system and has successfully used The Perfect ABC Songbook as a curriculum supplement.


It's so easy for a child to latch on to singing these songs. You'll be amazed at the results!


Children become mesmerized by the lyrics, melodic and style variety, and the full-color illustrations.